Introduction
In a buffet of debt investments, while the humble Government Bonds may not rank as the most enticing dish in comparison to other investment options, the foundation it can provide your investments is unparalleled.
It wouldn't be farfetched to say that in most countries, these government securities play an essential function in the entire financial markets by forming the backbone of fixed income securities markets, since they provide benchmark yield and impart liquidity to other financial markets.
When the government securities market efficiently runs as a well-oiled machinery in the economy, as a domino effect, it aids in the development of the country's corporate debt market.
In this article you will learn all about Government Bonds: What are Government bonds , what are Government Securities, how to buy Government Bonds in India, what are treasury bills, etc.
What are Government Securities?
Government Securities or G-Secs are securities created and issued by the Government for the objective of raising a loan from the Institutional investors & Non-Institutional Investors to manage government's finances, or any other reason as stipulated by the Government in the Official Gazette. These securities are tradeable debt instruments that are issued either by the Central Government or the State Governments. The central government being the Government of India and state governments like Uttar Pradesh, Tamil Nadu etc.
Among other things, these securities are usually issued by the government to meet its financial requirements like short term needs of cash management operations and long term needs like the country's infrastructural project developments.
What are Treasury Bills?
Simply explained, short term Government securities are known as Treasury bills or T-bills. These are called as short term debt instruments because they have a maturity of less than one year. In India, treasury bills are issued by the Central Government that is the Government of India.
What are Government Bonds?
Long term Government Securities are known as 'Government Bonds' or 'Dated securities'. Government Bonds are called as long term Bonds because they generally have a maturity period of more than a year usually ranging from 3 to 40 years. Government Bonds are issued by both the Central government and State Governments. Government Bonds or dated securities issued by the State Government are called as 'State Development Loans'.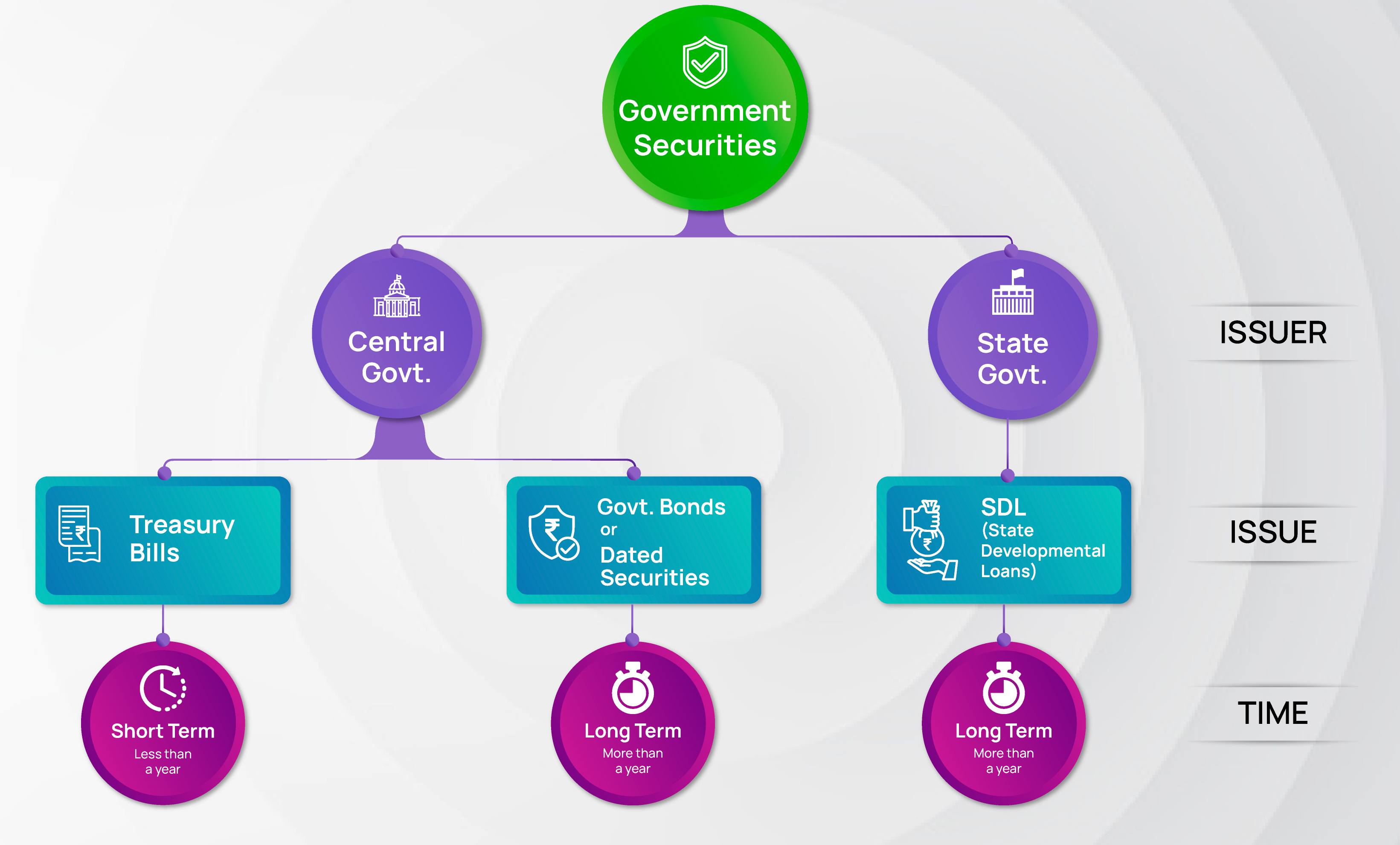 What are the features or Advantages of Government Bonds (G-Sec)
Highest safety: Investing in Government Bonds offer the highest degree of safety as these Bonds are issued by the government and carry with it the Sovereign Commitment. A commitment to pay investors interest on their investments and repay the principal amount. As a result, G-Secs carry practically no risk of default and are therefore also known as risk free or gilt edged instruments.

Interest Earned: Government bonds offer returns by way of interest which is called as coupons. The average coupon rate or the rate or Interest for these bonds range somewhere between 6% to 8% based on their tenure. Long tenure Bonds have greater interest rate whereas ones with short tenure will have lower interest rate. Eg – 9-10Y G-SEC tentative yield at 7.32% whereas a 1-2Y G-SEC would most likely be available at 6.45% as on 1st August 2022.

Holding: Government Bonds can be held in Demat form thus reducing the risk of misplacing them.

Liquidity: Government securities offer high liquidity as they can be easily sold in the secondary market in case investors need to exit their investments. In fact, they are deemed to be the most liquid securities of financial markets.

Collateral against loans: Investors can use their investments in Government Securities as collateral to apply for loans.

No Lock in period: Government Bonds offered by Government of India have no lock in period and therefor a good alternative to other traditional illiquid debt investment options such as RBI Savings Bonds or fixed deposits.

While the interest earned on Government Bonds may be lesser than other investment options like stock market or Mutual Funds, what it lacks in return it makes up with the safety and stability. Currently government bonds offer higher returns than some fixed deposits!

The interest earned on G-secs are usually paid half yearly or semi annually
How to Invest in Government Bonds in India
Now that you have understood what are G-Secs and the benefits they have to offer, let's understand how to buy Indian Government Bonds or the process to invest in Govt bonds.
You can invest in Government Bonds through brokers or through the exchange which may get tedious. Or, you can invest with IndiaBonds in 3 simple steps:
The first step to invest in govt bonds is to sign up on IndiaBonds.com.
As a second step, complete your KYC online in less than 5 mins without the need of any paperwork or uploads.
Step three, Browse through the curated packs and click on Government Securities / State Development Bonds on the explore Page to view a variety of Government Bonds for investments


Pick your choice of Government Bonds from our curated list of Bonds on our website.
Click the Read more button to get detailed issue reports such as interest payment frequency. Calculate your investment as against the final payout.
Click on "Buy this Bond", fill in your details and click submit. The Bond Managers will help you with the rest.
Conclusion
The G-Sec market has predominantly been invested in by institutional investors such as banks, mutual funds, and insurance companies. However, recent government efforts are pointing towards encouraging individual investors to invest in government Bonds.
While Bonds in general are a great investment strategy to diversify the portfolio, Government Bonds in specific are a suitable and effective choice for investors inching towards safety and stability. These bonds expose you to negligible risks, guarantee interest payout and principal payment.
Interested to invest? Explore a range of Government Bonds online on IndiaBonds. Browse here!
FAQ
Who all can invest in Government Bonds?
The following can invest in Government Bonds : Individual investors, Hindu Undivided family ( HUF), Non Resident Indian (NRI) and Overseas Citizens of India (OCI)
Are Government Bonds safe to invest in?
Government Bonds are considered risk free since they are guaranteed by the government. They offer maximum safety as the government commits to pay the interest and repay the principal. Yes, Government Bonds are safe to invest in and give higher returns than Fixed deposits, National Savings Certificate, Post Office Fixed Deposit or RBI Savings Bonds.